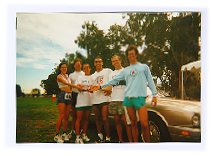 Track Club Miami is coached by Dave Afshartous, former coach of Track Club Los Angeles (third from right in the above photo).
If you are looking to improve your running times or just want a group to run with, please feel free to join us for our weekly Sunday run at Key Biscayne.
Place: The last parking lot just before the big Rickenbacker bridge as you are heading towards Key Biscayne.
Time: This week's meeting time will be 9 a.m. Sunday. This time changes periodically so please check in advance.
Parking is free, but the toll is 1 dollar.
All levels and abilities welcome!
We will be adding a weekly track workout in the future.