Welcome to TCLA!
---
Announcements
TCLA gets plenty of airtime on Episode 33 of the Jim And The Other Guy podcast.

All TCLA'ers at the Boston Marathon returned home safe and sound. Sharon Yamato has written this newspaper article recounting her experience at the race.

Congratulations to Susanne McNeil Eng and Megan Laib on their respective second and fifth place age group finishes at the 2013 Los Angeles Marathon.

The 2012 TCLA award winners have been announced, and their names (and those of past winners) are posted here.

These TCLA'ers performed a yeoman's service at the 2012 West Region USATF Championships: Chris Dion, Carl Finer, Jim Gidlow, Wayne Joness, Ginna Ladd, Gabe Merton, Brian Panosian, Ellen Reiner, Jim Spear, Stephen Terry, and Laura Dreskin.

Bert Whitson shot these photographs at a recent workout.

Visit the TCLA online store for all your apparel needs (including the latest in TCLA infant wear!).
---
Track Club LA was founded by Boston area transplants Dave Afshartous and current coach Eric Barron. Afshartous was the captain of the MIT cross-country team and was All-New England in the 10,000, while Barron ran for Harvard and has run several marathons.

Our club meets for weekly interval workouts Tuesdays at 6:30 p.m. at the Santa Monica College track (off of 16th Street, just south of Pico Boulevard). Preview this week's workout! Make sure to arrive early to warm up. We also meet Saturdays for a longer distance run. Club members receive personalized coaching advice on how to achieve their running goals while having fun and staying injury-free.

All levels and abilities welcome! Interested in joining us? Contact our coach Eric Barron by email at eric@trackclubla.org or phone at 310-471-8988.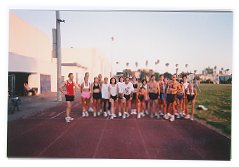 &nbsp &nbsp &nbsp &nbsp


runners have visited this page since June 29, 2000.
---